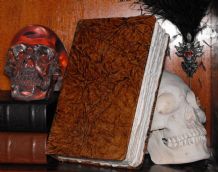 Host-Party.com is excited to announce the release of our latest game: Summoned: A supernatural murder mystery. You have been summoned to the dungeon at Doom Castle by Lord Harbinger of Doom, the famous summoner and demon slayer. You are powerless to resist as his summoning spell is very strong. Who knows what the evening will hold.
Lord Harbinger of Doom has spent many years as a demon slayer, fighting evil spirits who have crossed into the human world. He recently found an ancient spell in the Book of Evil which will allow him to actually summon evil spirits to earth. He has an unpleasant surprise waiting in the Dungeon for any evil spirits that answer his summons.
Join Lord Harbinger and his assistant Willie Survive as they prepare for possibly the last battle of their lives
Learn more about
Summoned: A supernatural murder mystery
.