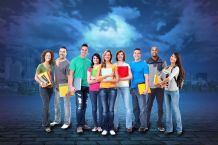 Host-Party.com is excited to announce the release of our latest game: The Dirty Dozen Do It Again. This simple to use teen murder mystery for 6-12 people is a great way to move a party and have lots of fun. Spend an exciting and entertaining evening with these unique characters sleuthing and discovering whodunit!
Set in the neighborhood coffee shop, the "Dirty Dozen" are hosting a stormin' rager to discover who among them murdered the principal of their school. All will have fun playing their unique characters while investigating this unpredictable outcome. Everyone is a suspect....So, come join the fun!
Learn more about
The Dirty Dozen Do It Again
.